Monday, February 1, 2010 @ 2:34 PM
Sponsor
Interested in being sponsored by Purple Fuse? I'd be happy to!
To place an ad in the right sidebar:
Your ad must be at least 125px wide. After you've made your purchase,
contact me
and I will place your ad up as soon as possible.
Purple Fuse's loves: art, photography, inspiration, music, anime, manga & comics, and personal blogs, as well as handmade and commercial shops, and more, just to give you a general idea of what I'm looking for.
Contact me
if you want to sponsor me. You must provide an image that's at least 125 pixels wide.
Friend
If you like what you see on Purple Fuse and would like to be friends, you must have a blog to exchange image banners. You must also link me back using this image below and have it displayed on your front page.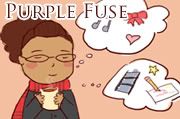 Note: Being friends is not the same as
link exchange
. You must truly admire my blog to be added. Sign up for sponsorship or link exchange if you just want to promote your site.
💝 Free Cookies! 💝